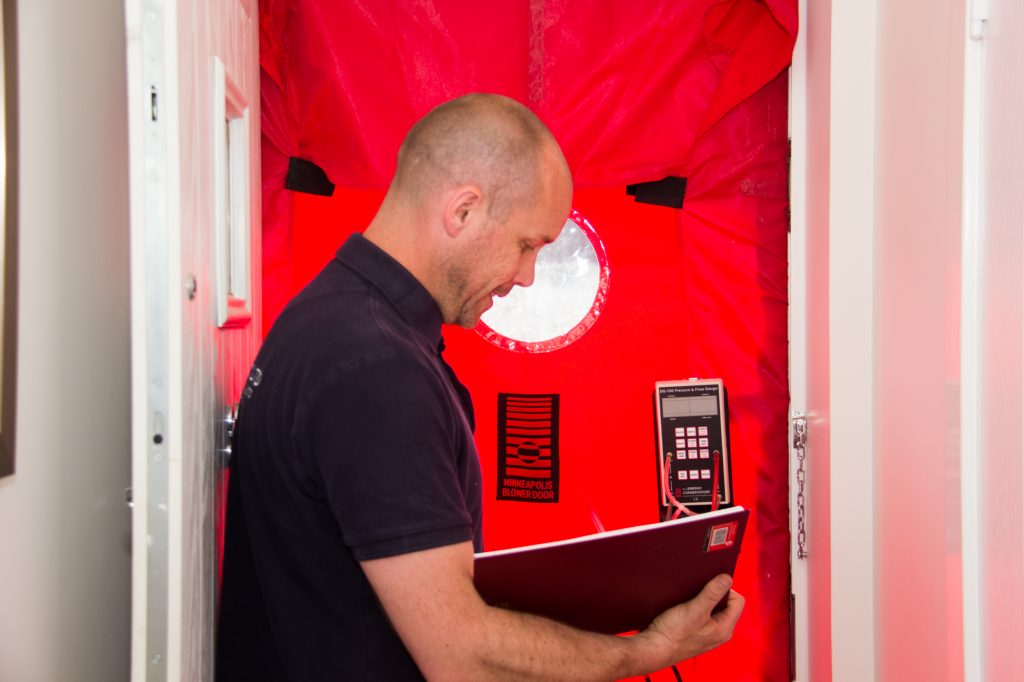 If you're a developer working on a construction of new build homes of any size, air tightness testing is an essential requirement to comply with Part L of Building Regulations. Air tightness testing or air permeability testing as it's also known, determines how efficient the homes in your development project will be.
Discover all you need to know about when to think about air tightness testing for your project and how to book in a qualified air tightness test.
At Falcon Energy, we're fully qualified air tightness testers with over 15 years of experience and have worked on developments across Sussex, Surrey and London. We can help to not only provide you with certification following the testing on your properties, but we can also advise you on the best practices to adhere to in order to pass the air tightness tests. Give us a call today on 01403 253439 or email info@falconenergy.co.uk to book an appointment.
What are the rules and regulations for air tightness testing in new builds homes?
Since 2006, it has been that law that all new build properties and home conversions must pass an air tightness test in order to comply with Part L of Building Regulations. In general, all properties must achieve an air leakage of 10m3/hm2 or lower in order to pass air tightness tests.
Although air tightness testing is a legal requirement, it also guarantees that a property will be fit for use and comfortable to live in, this is because buildings that pass air tightness tests are:
More energy efficient
Retain heat better
Cheaper to heat
Less draughty
Whilst this makes living more comfortable for the owner or tenant, it also means that less energy is being wasted and therefore reducing the carbon emissions caused by housing.
When's the best time to consider air tightness testing?
Air tightness testing is best considered at the planning stage of any build. This is because recommendations and best practices can be made at these early stages to ensure that any air leakage or heat loss is kept to a minimum with the materials used, ensuring compliance with Building Regulations. If the construction process has started, it can be harder to improve the build quality and can end up being quite costly and time consuming.
With a reliable team advising you and best practices in place, your new build development should quickly and easily pass air tightness tests, ensuring that the whole development is on track and on schedule.
At Falcon Energy, we have worked on developments of all sizes in the south east to help them get certified for Part L of Building Regulations with not only advice from the planning stages, but by undertaking all air tightness testing and providing certificates for all buildings that have passed.
Find out more about getting your project ready for air permeability testing.
What does air tightness testing look for?
Air tightness testing is looking for one main quality of a building, how well it retains air and whether there is a high amount of air leakage from the building fabric.
Air leakage testing or air pressure testing uses a large fan, that is usually installed in the entrance or front door of the property, to determine the airflow around the building. A series of measurements are taken whilst the fan is on to test the leakage around the main rooms in the property.
Once these measurements have been taken, calculations are made to determine whether the property is compliant with Part L of Building Regulations or whether it needs extra work to ensure its up to standards.
If there are any gaps and cracks in the building, or the fabric of the building isn't very good at retaining air and energy, then this may cause high readings and non compliance. Whilst you can simply make changes and get retested, this can cause delays to your building schedule which can be costly.
Find out more about the process to air tightness testing.
How do I book an air tightness test?
Booking in air tightness testing or air permeability testing for your new build development is extremely simple, you just need to find a qualified company to instruct at the planning stage of your development.
Falcon Energy are IATS (Independent Airtightness Testing Scheme) certified, meaning we are fully qualified to provide recommendations on best practices for energy efficiency and compliance for Building Regulations, as well as undertake all air tightness testing and air pressure testing.
Contact us today to discuss your requirements and book an appointment with our knowledgeable and professional team.