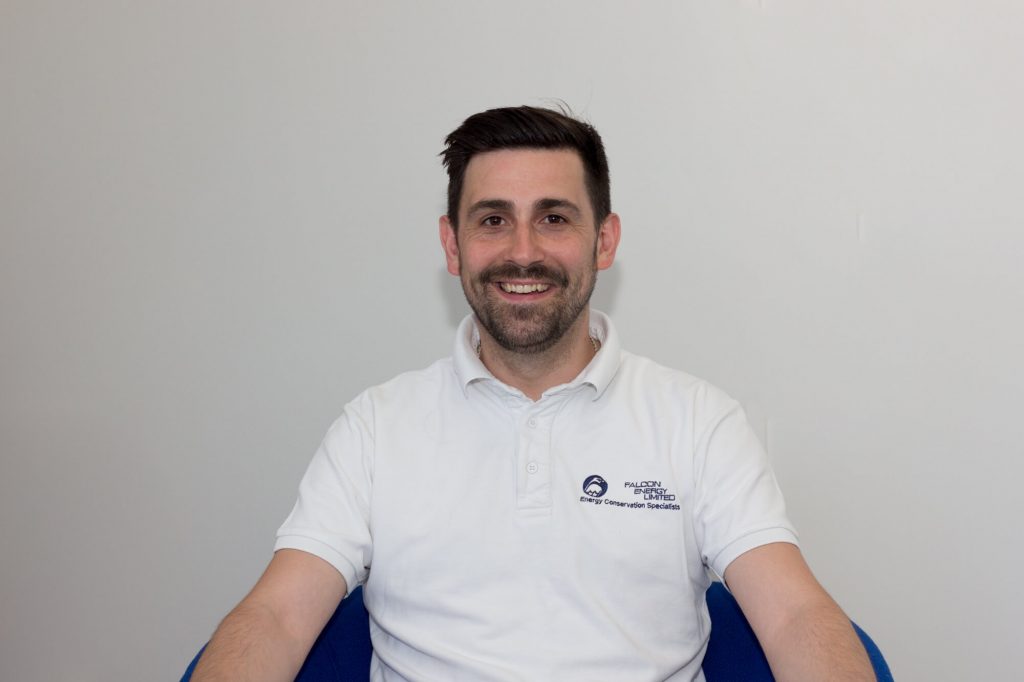 This month, we are speaking to our Director Neil Vanson about his time in the energy industry, Falcon Energy's core offering and his future predictions for energy efficiency.
Neil started Falcon Energy with Hicham Rhioui and between them they have over 25 years' experience in the industry.
How did you get into the energy business?
In 2006 I was working for a property developer and I knew there were new regulations coming out regarding energy efficiency and air tightness testing. Myself and my business partner Hicham discussed the new regulations and decided that this was something we were interested in pursuing.
What interests you about working in energy and what do you love about your job?
I love working on a project from start to finish. It is really rewarding to take on a project and undertake all aspects of testing for energy efficiency from conception to completion.
I also really enjoy being my own boss, as I get to work in the local area and employ members of the local community including family members and friends.
What made you want to start your own business?
This is always something I knew I wanted to do. Once the air tightness testing regulations started coming in, Hicham and I knew this was the perfect time to start up our own business. We initially started the business just offering air tightness testing services and we have expanded our services over the years in accordance with our growth.
Starting up a business at the time of the credit crunch was tricky, but we made sure that we didn't stretch ourselves too much by staying a small, local business until it all turned round.
Where other business got hit during this time, we managed to push through and keep going.
What does a standard day look like in your role?
Each day is very varied, so it is hard to say exactly what a typical day looks like. However, I tend to arrive in the office early to get through all of my emails and deal with any enquiries or urgent matters.
In the morning I also go through all of the diaries of the testers with Hicham and the office staff. Once we are all up to speed with how the day is looking, we organise all of the testers and get them out on the road to their jobs to begin testing.
The rest of the day is spent creating any designs and floor plans that need doing and just the day to day running of the business.
What makes Falcon Energy stand out as a company?
We are proud to be a one stop shop that can cater for all sizes. Whether it's someone building their first home who needs energy efficiency advice and testing, or a developer with hundreds of homes being built who needs testing for all of them, we can undertake anything!
Being a local company, we pride ourselves on our people and we always receive feedback about how great our staff are. Customers can always speak to the right people when they need to and we create bonds with our customers that keep them coming back to us time and time again.
What are your three biggest accomplishments?
There are three main things we are proud of, our first being our consistent growth and expansion. Year on year we have grown steadily and we have managed to expand our services several times because of this.
Secondly it is a great pleasure to be able to employ members of the local community.
Thirdly, we have been involved in loads of really exciting builds and it is a great achievement to be working on such amazing projects..
What would you say is your most requested/core service?
Our most requested service is air tightness testing, closely followed by SAPs / EPCs.
Any predictions for the future of energy efficiency?
Energy-wise, we can only get more and more energy efficient. The government are going to continue to set targets to improve energy efficiency. I think this means that in the future, as well as new builds having stricter targets, the standards of existing buildings will be subject to stricter targets.
Whilst renewable energy is a big topic at the moment and we can expect to see a rise in this, I think there will be a big focus on improving the way homes are built. This would include an improvement in the fabrics used, such as better insulation, rather than focusing on renewable energy.
Get in touch
If you would like to find out more about Falcon Energy and how we work, take a look through some of our past case studies. If you would like help and advice on how to become more energy efficient, give us a call on 01403 253439.