When building or converting a new property, it's important to adhere to all Building Regulations and guidelines to ensure your build ticks all the right boxes.
At Falcon Energy, we know all too well the importance of such compliance and therefore offer a second to none Part F Ventilation and Commissioning service that's efficient, thorough and professional.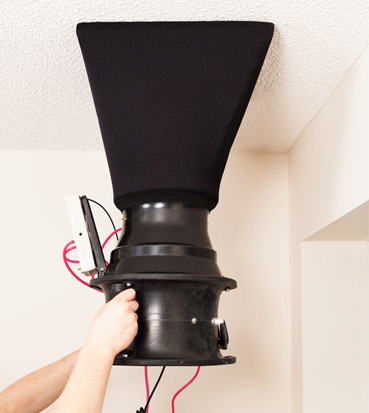 Ventilation Standards
Ventilation testing is legally required to verify the practical performance of ventilation in new dwellings or converted properties and measures the airflow for any new property. By ensuring this testing is completed, you'll be complying with Part F of the Building Regulations that was first introduced in 2010.
Ventilation tests must always be carried out by UKAS or BPEC qualified engineers using calibrated equipment; employing an unregistered testing engineer can lead to financial penalties. At Falcon Energy, our entire team is made up of registered, experienced engineers and only these professionals will complete ventilation tests.
What's more, Part F also requires the commissioning and installation of ventilation systems to be overseen properly and efficiently to avoid issues such as dangerous wiring and inadequate access space. Falcon Energy can oversee such commissioning in new build properties and offer expert help, guidance and knowledge.
What is needed to complete a ventilation test?
Before any testing of the property is undertaken, you will need to provide some key documentation in order for the tests to be completed. This documentation includes:
SAP calculations
Details of the ventilation system at the property
The ventilation system design and plans
Floor plans of the property

As well as this, the ventilation system will actually need to be installed and fully functional and operational.

Once all of this has been provided, our expert team are able to analyse and test all of the ventilation systems installed in the property and provide accurate calculations on how much air they extract and whether they comply with regulations.

It is always best practice to instruct a qualified team at the planning stage of the build, so that they can advise and provide the best solutions for creating a ventilation system that will pass all tests.
Working with Falcon Energy
By choosing Falcon Energy to complete your Part F Ventilation Testing and Commissioning, you're guaranteed an efficient service that is professional, speedy and reliable. We pride ourselves on having a team of qualified experts and specialists, all of whom are extensively experienced at a range of energy conservation services including ventilation.
We always work closely with you and any onsite contractors or architects from start to finish; you'll never be left out of the loop and we'll always be open and honest about our work practices. We're dedicated to ensuring you pass any Building Regulations with flying colours and if you don't, we'll ensure the best options and solutions are presented clearly and fairly. We work across Sussex, Surrey, Kent and nationwide.
Frequently Asked Questions
How is compliance achieved?
Compliance is achieved through an expert understanding of the air tightness figures in a property and pairing this with an appropriate extract or trickle vent and the correct length of ductwork.
For example, some properties, particularly commercial, will require more powerful extracts to remove air and moisture and this will increase if the air tightness test results are below 8.
As a result, we advise Part F Ventilation tests are booked at the same time as Air Tightness tests. If both are booked with us at the same time, we can offer cost savings.
---
What is the best way to achieve compliance?
This can change depending on the wider design of a property but generally speaking the following are guidelines for sufficient ventilation:
At least one trickle vent per single window, or two for double windows
Use the shortest possible ductwork path and prevent any blockage
The installation of low or high powered extracts
At least a 10mm undercut for each internal door
Get in touch with us if you have any questions or require consultation before construction.
---
Are there minimum rates I need to achieve?
The minimum rates needed are detailed on page 19 in the Ventilation: Approved Document F, as specified in Government requirements.
Please see the relevant rates here: Ventilation: Approved Document F
---
How important is this testing?
It is a crucial stage of certification that needs to be completed to the standards expected of the Building Regulator.
Achieving a low air test score prevents the buildup of water vapour or pollutants which can spread into other areas of a home, causing dampness and mould. If this occurs it can lead to negative effects on an occupant's health and the property.
It is essential that the proper extract units are installed to avoid this.
---
Get in touch
Call us today on 01403 253439 or email info@falconenergy.co.uk to find out more about our Ventilation and Commissioning services. We're more than happy to offer a free, no obligation quote or answer any questions you might have.