If you're planning on remodelling, restructuring or redeveloping your property, many local authorities will wish to see a professional Energy Statement alongside a planning application. At Falcon Energy, we know the importance of this documentation and our expert team have years of experience at providing such a statement to ensure your project runs smoothly and in accordance with various rules and regulations.
What is an Energy Statement?
An Energy Statement is a legal document required for a property or building project to prove that the development will not only be sustainable but will meet local energy policies. From CO2 emissions to renewable energy targets, this statement will demonstrate how specific energy-based objectives will be met in order to allow a planning application and project to move forward.
Energy statements typically detail the most cost effective solutions to reduce the carbon emissions of any dwellings and if any renewable technologies are required.
By providing a valid Energy Statement, and proving how any objectives can be met through the likes of proper ventilation solutions and efficient heating and lighting, you'll be able to demonstrate your commitment to your local planning authority and enhance your dedication to a more sustainable property.
Working with Falcon Energy on your Energy Statement
With years of knowledge, experience and expertise, Falcon Energy are your number one choice when it comes to obtaining and understanding an Energy Statement for your property or building project. We know the significance of having a thorough statement that not only proves your sustainable efforts but outlines any crucial steps to making your plan that crucial bit more environmentally and energy friendly.
All of our Energy Statements are completely bespoke and unique to your property; we'll take the time to research, plan and come up with cost-effective, sustainable solutions especially for you. SAP and SBEM calculations will take place early on to kick-start the process and the Falcon Energy team will provide a detailed, unique report that's not only compliant but easy for you to understand. We work throughout the UK.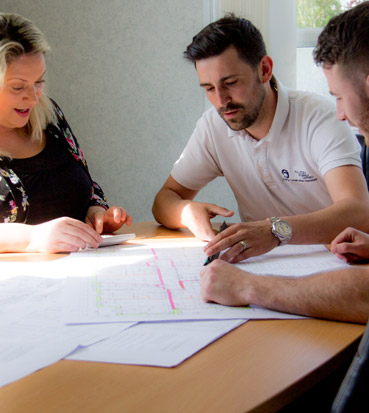 Our Energy Statements will outline:
Standard CO2 emissions and energy costs
Potential fabric efficiency improvements
Lighting efficiency enhancements beyond standard regulations
How the development will meet local energy policies and plans
A Renewables Feasibility report
Contact us today
We work throughout Sussex, Surrey and London and have extensive knowledge of how best to meet local authorities energy targets and ensure your development is sustainable. Our knowledgeable team will work with you from the outset to ensure you are aware of all of the best ways to ensure your properties are efficient and have a low carbon footprint.
To find out more about our Energy Statements services, or any other services that Falcon Energy have to offer, give us a call today on 01403 253439 or email info@falconenergy.co.uk. We'd love to help.
---
Frequently Asked Questions
What is an energy statement?
An energy statement is required to prove that a property or building project is sustainable and will meet local energy policies.
It is a legal document covering aspects such as CO2 emissions and renewable energy targets. For planning applications for developments and properties, it provides information on how energy-based objectives will be met for the planning application to be successful.
It also offers guidance on how to reduce emissions to ensure that the planning application meets local targets.
---
What can you expect from an energy statement?
It will include a breakdown of several key energy assessments. It typically includes:
Baseline energy calculations and maximum permissible CO2 emission calculations
Proposals for improved fabric thermal efficiencies
Proposals for increased heating, hot water, ventilation and lighting efficiencies
A review of the location of any local heat networks
A site specific feasibility study into different renewable or low carbon technologies
Predicted energy calculations for the development which demonstrates compliance with the local sustainable planning conditions
There may also be occasions where the Energy Statement considers wider sustainability issues in addition to the above. These could include:
Water efficiency calculations and proposals
Sustainable urban drainage proposals
A Code for Sustainable Homes Pre-Assessment
Once you receive your energy statement, a member of the team at Falcon Energy can go through it with you to ensure you understand each of the areas covered and any next steps, if required.
---
What is the London Plan?
If you live in Greater London you need to be aware of the London Plan. It's a strategy for the area involving economic, environmental, transport and social frameworks for developments up until 2031.
Any local plans submitted by the London borough need to follow the policies of the London Plan. It requires a 35% reduction in CO2 emissions over and above the building regulations of 2013.
This must be evidenced by SAP Calculations or SBEM Calculations. Depending on the plans, it may also require minimum performance against the Code for Sustainable Homes or BREEAM.