264-acre site with 200+ new homes
Our team worked on a five-phase development of over 200 units (houses and apartments) for Persimmon Homes, at a beautiful site in Dartford, Kent. The project had a cost of over £5m and was a mix of private and housing association units, with commercial units included in the scheme.
Persimmon Homes are one of the UK's largest home builders, including affordable properties from flats to large family homes. Waterside at The Bridge was a large 264-acre project including landscaping and open spaces. Properties ranged from 2 to 4 bedrooms and sold with a focus on modern living and saving energy and money on bills.
For each different property type on-site Falcon Energy advised on energy saving methods including cost-effective heating systems, insulation and double glazing. Resulting in sustainable modern homes that reflected their surroundings and passed all required certification.
Works also included SAPs and EPCs, code for sustainable homes level 3, air tightness testing and part F ventilation testing. Throughout the project, our team were on hand to advise and carry out on-site tests to ensure the accuracy of energy saving solutions and the certifications required to meet the desired level 3 code.
Our team were proud to provide our expert services to this large project and to provide peace of mind to both the developer and the resulting homeowners in the UK. For the families now living in the properties, cost savings will occur each month in comparison to older, non-sustainable builds.
For more information and to find out how Falcon Energy can help you conserve energy and complete sustainable builds with full certification, call us on 01403 253439.
Works: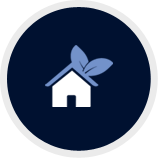 Code for sustainable homes level 3