High spec bespoke build to code level 4
Falcon Energy worked with bespoke builder KM Grant, based in Surrey, throughout a high specification build, from start to finish. Our team were involved throughout the whole process with recommendations and design advice, based on design stage SAPs and our expert experience.
KM Grant specialises in large scale on-site house builds ranging from £250k to £10m with high-quality finishes. As a result, each aspect of the build is rigorously planned and strictly checked to ensure all standards are met as they build a client's dream home.
The large four-storey property at West Byfleet was a one-off build where our client worked directly with the private buyer to design a rewarding and unique property, including a basement and indoor swimming pool. The design is contemporary and was built with energy sustainability as a priority.
Our team carried out full calculations and on-site testing and were pleased to offer our skills to aid in the design process for all aspects of a code level 4 sustainable home. This included air tightness testing, part F extract testing and SAPs and EPCs as the building took shape.
This work provided a stress-free basis to meet requirements and resulted in a large property reducing its carbon footprint and energy waste. This is essential for substantial properties as the savings are very significant when planned correctly and applied to the design.
The team at Falcon Energy worked closely with the developers and builders to ensure the satisfying project achieved its goal sustainability level, with full certification and long-term strategies for the owner to be environmentally conscious.
We can help on a wide range of energy conservation projects. Get in touch today by calling us on 01403 253439. We look forward to hearing from you.
Works: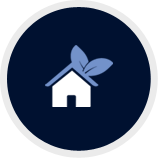 Code for sustainable homes level 4