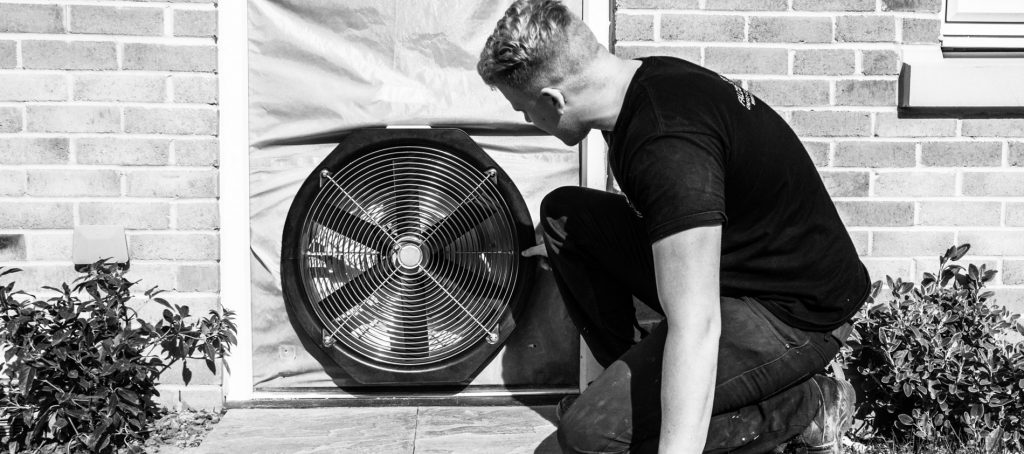 At Falcon Energy our engineers will be able to take you through the process and ensure the property we're testing is fully prepared for optimal testing. However, it's important you understand what this involves and how you can plan ahead for your appointment.
What is air tightness testing?
Air tightness or air permeability testing is an essential on any new build development or project, in accordance with Building Regulations. It's extremely important for determining how much air is being lost from a building and ultimately understanding how efficient the dwelling is overall.
Air tightness testing is also a great way for homeowners with older homes to discover if there are any air leaks at their property and undertake works to improve the efficiency and environmental impact of their home.
When does testing take place?
Testing takes place once the building is fully built and ready to go, this allows for more accurate reading and ensures that it doesn't fail, which can be costly.
Once the building is ready, there are a few things that need to be prepared ahead of your air tightness tests, which we go into detail about below.
SAP calculations
It's extremely important that you have SAP calculations completed beforehand, as this gives you an excellent indication as to the target result you can expect when having air tightness testing completed.
Ideally, SAP calculations should be completed at the design stage to the build to ensure it's compliant and avoid costly changes once the property has been built.
Windows and doors
All windows and doors need to be fully fitted, sealed and working. As well as this, access doors need to be air tight and sealed – not just temporarily. This also includes loft hatches – they need to have draft excluders and be properly sealed before testing.
If you have any trickle vents installed in any windows or doors, these need to be closed on the day of the test.
Bathrooms and kitchens
Bathrooms and kitchens are notorious for having air leaks, these are often found around pipework. Ensure that before fitting all bathroom and kitchen appliances and storage, that all pipes are sealed thoroughly around the edges.
Once everything has been sealed properly, ensure all bathrooms and the kitchen are fully fitted and furnished, including appliances and extractor fans.
Skirting boards
All skirting boards need to be properly sealed – the best way to do this is by not only just sealing the top of them, but sealing the bottom of them too. This ensures they are fully air tight and effective.
Lighting and power
Ensure all light switches, plug sockets, appliances and any light fittings are installed and fully sealed prior to testing. If these aren't done before testing, then it can lead to bad results on the air tightness test, so it's extremely important that this is completed beforehand.
Get in touch
If you need air tightness testing, SAPs or any energy advice for your new build development, get in touch with our team. We have years of experience in the energy sector and have worked with a range of different developments, from large, multi house sites to single building developments. No matter what your requirements are, we can help you build an energy efficient and environmentally friendly property.
Discover some of our previous air tightness testing work with bespoke builder KM Grant here. As well as air tightness testing, we provided them with Part F extract testing and SAPs and EPCs.