With our world becoming increasingly focused on being environmentally friendly and sustainable, using renewable energy is more important now than ever before.
Renewable energy is clean; it produces far less wastage and uses natural sources, such as the sun, ensuring durability. In recent years, renewable energy sources have become far more affordable and accessible, making it a great solution for homes and businesses alike.
At Falcon Energy, we know how important renewable energy is to a sustainable property and business owners, and have a range of services including advice and consultation to offer across East and West Sussex, Surrey, Kent and nationwide.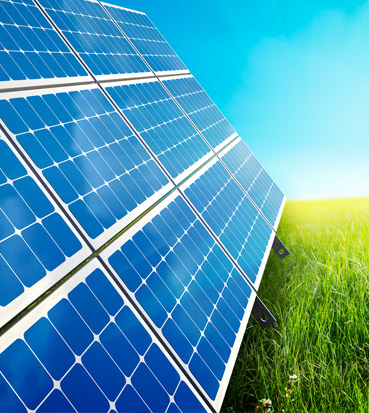 Our Renewable Energy services
Falcon Energy are fully qualified to design and install:
This is in accordance with RECC - Renewable Energy Consumer Code.
We are also able to advise on any solar panel installations, including Solar PV and Solar Thermal.
Our design software will help you find the best system to suit your project and our experienced team are on hand to offer the very best advice and knowledge on the right renewable energy option for you.

Solar PV
Solar PV refers to Solar Photovoltaics, or as they are more commonly known, Solar Panels. Typically mounted on a roof, solar PV uses energy from the sun to generate electricity. Direct sunlight is not needed to generate energy, daylight itself is good enough. Although sunnier days result in more energy being generated.
The energy produced is green, clean and free energy, making it environmentally friendly and beneficial to your home and business, as your electricity costs will be cut dramatically following installation.
Solar thermal
Solar thermal are also solar panels, but look and work slightly differently than solar PV. Instead of generating electricity, solar thermal panels use energy from the sun to heat up water.
This type of technology can seriously reduce your water and energy bills, as well as reduce your carbon footprint. They are known for being extremely low maintenance, making them an excellent investment for any home or business.
Air source heat pumps
Air source heat pumps extract heat from the outside air to heat the home. They are able to heat things such as radiators, underfloor heating and hot water.
Installing a heat pump into your home can not only lower your energy bills, they also reduce your carbon footprint and impact on the environment. There is also the potential to earn money off of the energy generated through a Government incentive scheme.
Thermodynamic technology
At Falcon, we're proud to be able to offer thermodynamic technology for your home to make it more energy efficient. Thermodynamic panels use energy from the sun and even heat from your attic space to heat your hot water, providing your home with natural and efficient heating.
There are many benefits to using thermodynamic technology in your home, including:
They're 320% efficient
The system is maintenance free
You don't have panels attached to your roof
You don't need a boiler
They're cheap to run
They're extremely long lasting
Get in touch with our team of experts to find out more about our thermodynamic solutions.
Working with Falcon Energy
As well as a range of renewable energy services, we are able to provide expert advice on solar panels and installation solutions for air source heat pumps. Falcon Energy also have the ability to offer first and second-fix electrical and plumbing, gas, heating, boiler repairs/install and servicing works. We offer a full-rounded service that you won't find anywhere else.
All of our technicians are fully trained and qualified in relevant fields needed for our industry so you can rest assured you'll be in safe hands. What's more, our team are MCS accredited suppliers and installers and can operate across the South East; no job is too big or too small for us.
Frequently Asked Questions
What are the main types of renewable energy?
The main types of renewable energy that you may have heard of, or can benefit from are solar (photovoltaic and thermal), biomass, air and ground heat pumps, wind turbines, hydro power and photovoltaic thermal power.
For homes and construction the main types are solar, biomass and photovoltaic energy.
---
What are the benefits?
As renewable energies don't pollute, they are fantastic for your energy portfolio and can also save costs in the long term after installation.
Utilising natural energy such as sunlight and heat reduces the use of expensive fossil fuels and this has a positive impact on the environment as a whole.
Renewable energy also delivers energy to the end user or homeowner directly; they don't require power lines or complicated, lengthy distribution.
It is presumed prices for renewable energy will decrease in the future and governments will reward the use of 'clean energy'.
---
What is Solar Photovoltaic?
Solar Photovoltaic is a system of solar cells that capture sunlight and convert it directly into electricity. They are most commonly seen as solar energy panels and can be installed on the roof of properties to provide energy.
Whilst you can't get a total household's energy from Solar PV without storage batteries, it does reduce energy bills. A 4kW generation capacity is the most popular option. It can usually be installed without needing any special permissions.
---
Is Solar Photovoltaic beneficial?
In terms of renewable energy, it is the most accessible form of technology and is largely maintenance-free for homeowners. As planning consent is not normally required (this should always be checked), it can be the best option to install.
To maximise the energy produced by the panels, they should be kept clean and have regular checks of wiring and panel integrity. They should also be kept free from shadows, for example, from neighbours trees.
Once working, they provide clean energy and reduce energy bills from more traditional sources. You can use an app to flag up any issues with your panels so issues typically don't go undetected.
---
What costs are involved?
Initial setup and installation costs of a 4kW array system starts from roughly £6,000, but it's dependant on the scale of the system. After 10 years, there will be a cost of £600-£1000 to replace the inverter unit to ensure maximum energy is still being produced.
This cost is typically 'earnt back' in 10-12 years. As these systems last 20 years, the remaining 8-10 years provide free energy.
---
Get in touch today
Please contact us today to find out more about our Renewable Energy services or any additional advice, plus a competitive quote. Call 01403 253439 or email info@falconenergy.co.uk. Our team are on hand to offer guidance and unrivalled expertise.